Here you will find the most frequently asked questions about using Mix4Cycling.
To learn more about music, mixing and using the Camelot wheel, we recommend the advanced training on using the Mix4Cycling software.
The training is provided by a Mix4Cycling Master Instructor. All you have to do is choose your country of training and your master instructor.
Book your training via this link
How do I import my music?

To import your music,
Select the "Library" button
Select your music on your support
Your music will then be scanned to determine its duration, BPM and harmonic key.
How do I arrange my music on the timeline?
To feed the timeline, follow these steps:
double-click on a song located in the Items list
repeat the operation
How to change the order of music on the timeline?
When importing, your music is placed on the timeline in the import order on the tracks list.
To change this order:
Select the track you want to move with your mouse.
Drag and drop this track to the desired location.
Notice the change on the timeline.
How to modify the automatic mixing?
When you place your music on the timeline, it is automatically mixed over the last 8 beats. This feature is called Beatmix 8.
But if you want to modify this mix and perform a "manual" mix, apply this method:
Select the pointer over this part of the menu.

After selection, the pointer changes and signals the application of the SLIDE function.

You then have the possibility to SLIDER the music on each track and mix them at the desired location.

How to change volume, bass and treble?
To change the volume (bass, treble) on a track, follow this path:
Point your mouse at the desired location
Select this location by right clicking.
A submenu appears
change the volume level (bass, treble) (in %)
select "add volume", "add bass" or "add treble" as appropriate.

The volume will appear under an Orange line
The bass will appear under a Blue line
The treble appear under a Fushia line
How do I annotate my ride?
Mix4Cycling is specially designed and designed by instructors for instructors. Therefore, the implementation of teaching symbols was a priority.
To implement a symbol or an annotation, all you have to do is:
Point your mouse at the desired location
Select this location by right clicking.
A submenu appears

Choose your lesson by dragging your mouse over it.
Choose symbol or handwritten annotation
Validate with "Add" or "Enter"
How do I save my ride?
To save your ride, nothing could be simpler.

Select " + Playlist", name your ride and validate
How to implement a video?
The implementation of a video is one of the specificities of Mix4Cycling. Your video implemented, your ride mounted, a simple PLAY and off you go… Ride and video will be launched at the same time.
To implement a video, follow this procedure: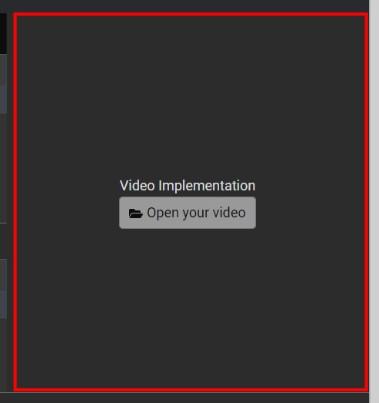 Select "Open your video"
Navigate to your media, to your video
Confirm your video.
How do I export my ride?
Once your "Items List" has been chosen, once your palylist has been organized and arranged, you have the possibility of exporting your mix in a single track.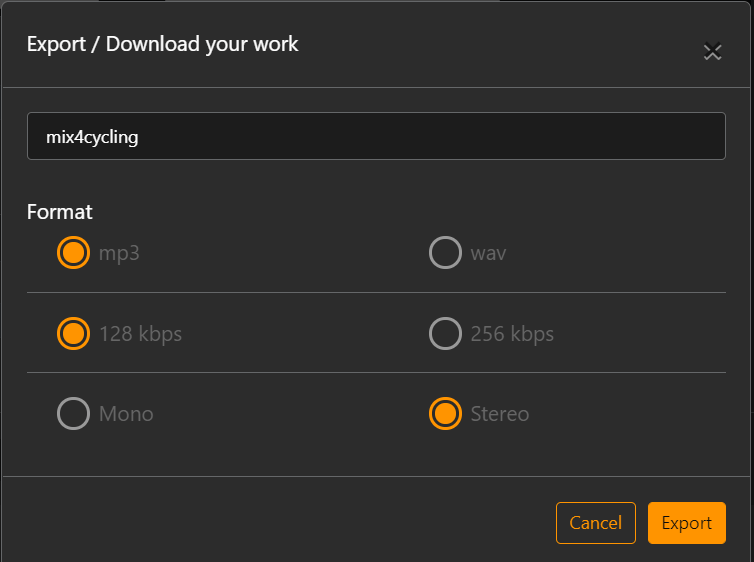 Follow this procedure:
Name your ride
Choose the export format (MP3 or WAV)
Choose bitrate (128 kbps or 256 kbps)
Choose the output (mono or stereo)
Validate with "Export"
What is the Wheel of Camelot?
| | |
| --- | --- |
| The Wheel of Camelot is a circular graphic representation of the various existing harmonic keys. They are coded from 1 to 12 and on two levels A and B, allowing the user to find the harmonically compatible keys. Select a numeric keypad and see the compatible harmonic keys to achieve your mix. | |
Can I retrieve my lessons from another software?
Unfortunately no.
Each software is rights protected and its code is encrypted. Therefore, it is impossible to read on Mix4Cycling, the code of another software.
However, it is certainly possible for you to export your rides from your old software in an mp3 format that you can reuse as a simple track in Mix4Cycling. CQFD.
Can I transport my course?
This possibility of exporting its course and the annotations on an external support will be integrated in the version V 2.0
What evolution for Mix4Cycling?
The future of Mix4Cycling is its Cloud and its light reader.
By connecting to your Cloud space, you can resume your ride and all its annotations.
Via the Tiny-Mix4Cycling player (Android or Iphone, Ipad version) you can easily give lessons while being lighter.
Why is my mp3 music not playing?
There can be several reasons for this problem.
the mp3 file is mostly corrupt.
The mp3 file is not complete. Generally, the ending encoding of the music file is missing.
The mp3 file is encoded under a variable stream.
Mix4Cycling only accepts mp3 files encoded at 128 Kbps or 256 Kbps.


If your stream is not constant, we advise you to convert your music file (variable mp3) into an mp3 file, 128 Kbps. There are many sites that allow this conversion.